Hi all!
I've been playing with facet filters, which is a moderately frequent topic on this forum, trying to come up with a manageable way to use such filters on any number of columns in a repeater. And I've found a reasonable solution!
What are facet filters? Facet filters normally return all items if no filter is selected, or return only those items checked.
Here is a facet filter from Macy's website showing the "Sleepwear Type" facet, among many other facets that you can choose from in your sleepwear quest: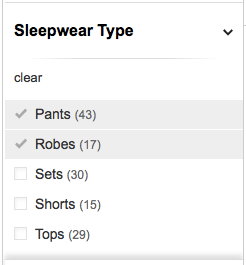 Leaving all of the above filters unchecked would show all sleepwear types, but here we are requesting to see just Robes and Pants. Other facets, such as Color, could further filter down which pants and robes we see.
Here is my solution, which easily extends to any number of columns. It requires no marking of rows or modification of the repeater's dataset, and there is just one filter per facet, regardless of how many categories a facet contains. These filters are defined just once, OnPageLoad.
Live sample (NOTE: there are THREE pages showing up to three facets)
File: facetfilters.rp (142 KB)